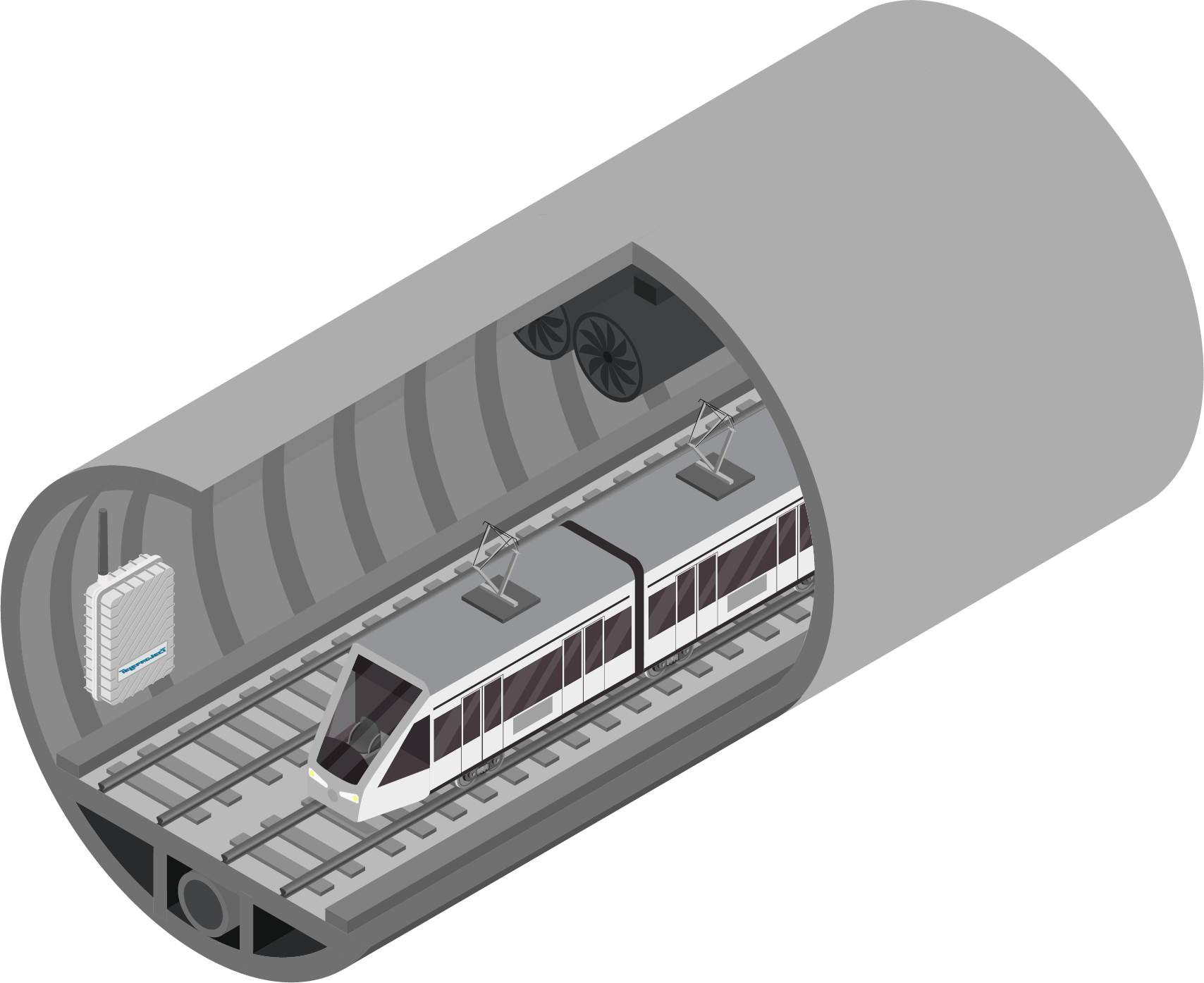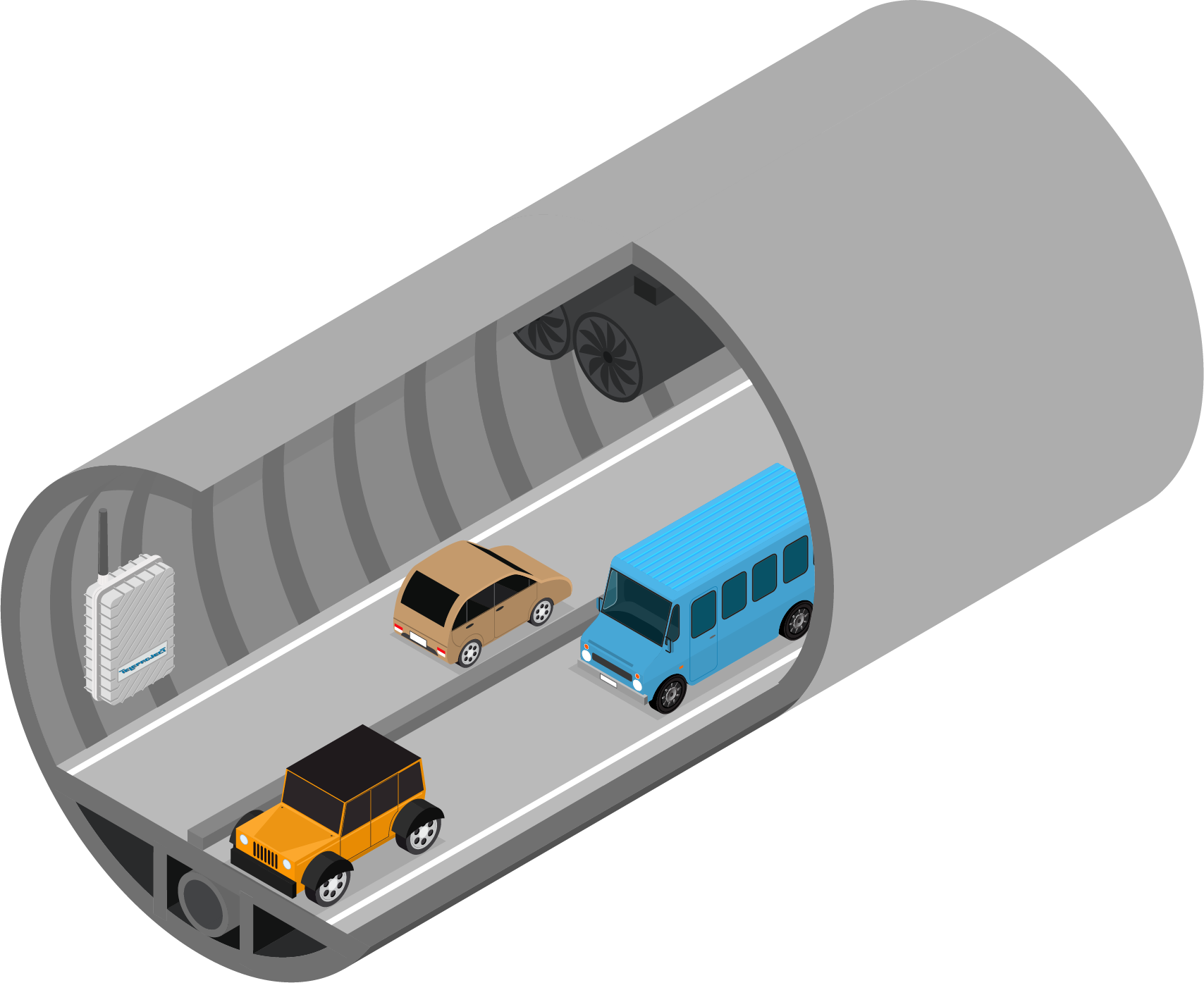 Outdoor spectrum analyzer
15 - 2700 MHz
The TP-RFX is a professional-grade outdoor RF spectrum analyzer with a frequency range from 15 MHz up to 2700 MHz. In Q4 2023, a version with a frequency range up to 6 GHz will be released
The TP-RFX is capable of analyzing a wide range of fixed carrier frequencies, including TETRA, PMR, DMR, LoRa, WiFi, Smart Road Car2X & C-V2X (Q4 2023), FM, DAB and many more. In addition, TP-RFX is able to analyze 2G, 3G, 4G, and 5G (low band) cellular frequencies. For specialized cellular signal monitoring, we have developed the TP-CELLX
User-friendly web interface
Setup and monitor the device directly from your browser!
Our real-time dashboard allows you to monitor the status of your network and set up various notification systems, including email, SNMP, and relays, to ensure that you are always informed of the current status of your network.
Click the button below and use the following credential to see a demo of the web interface. User: teleproject Password: teleproject
LIVE DEMO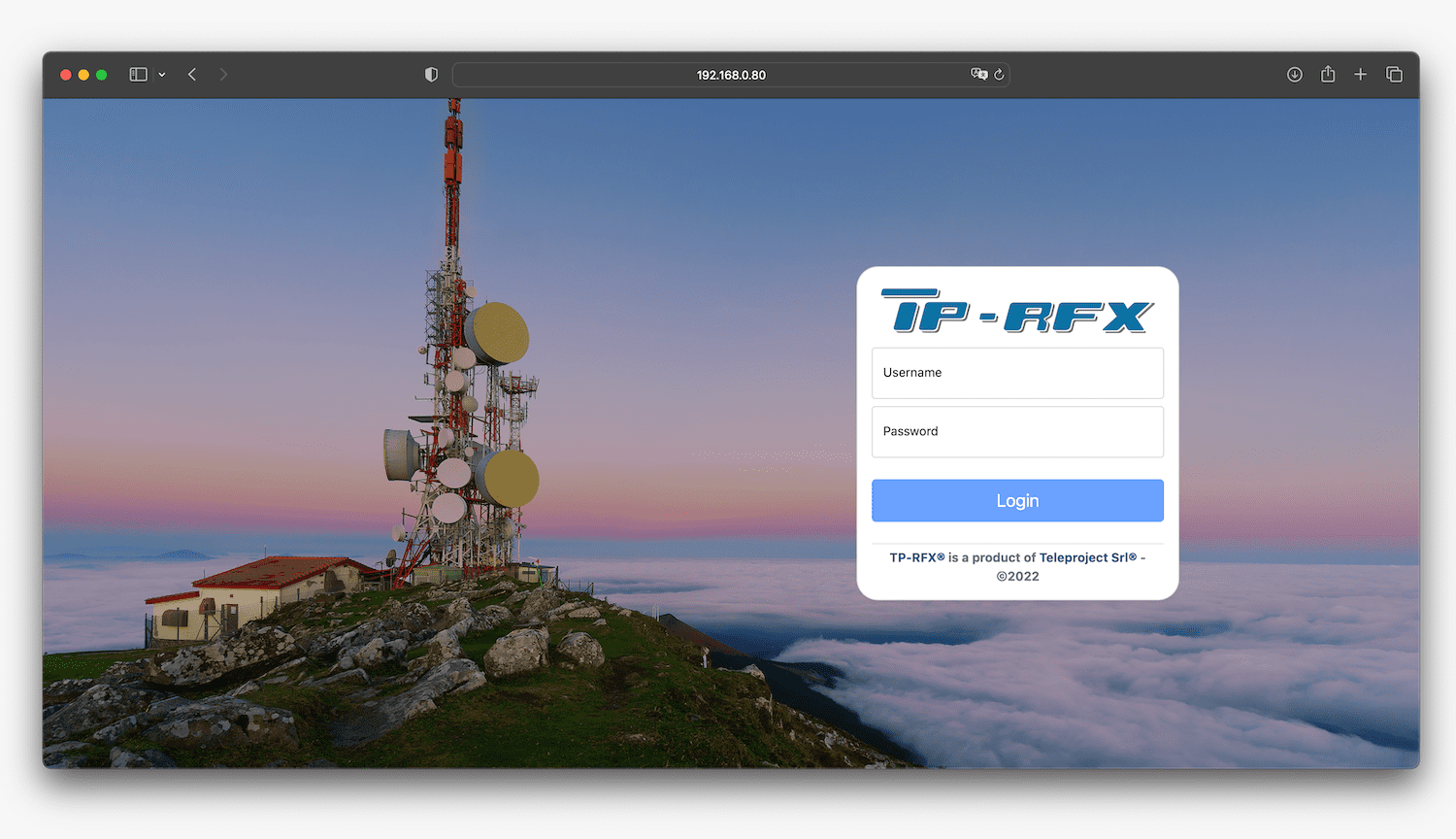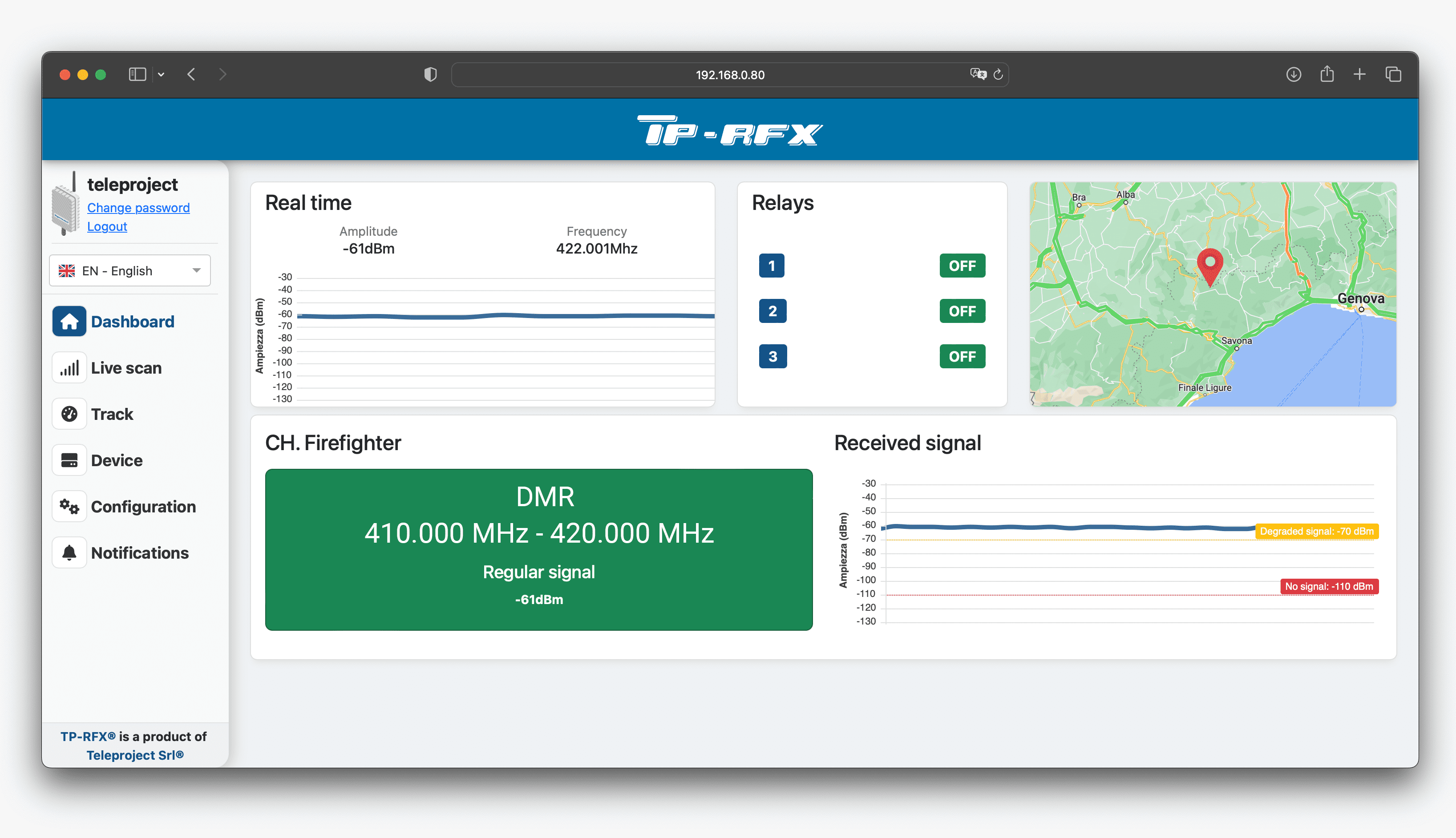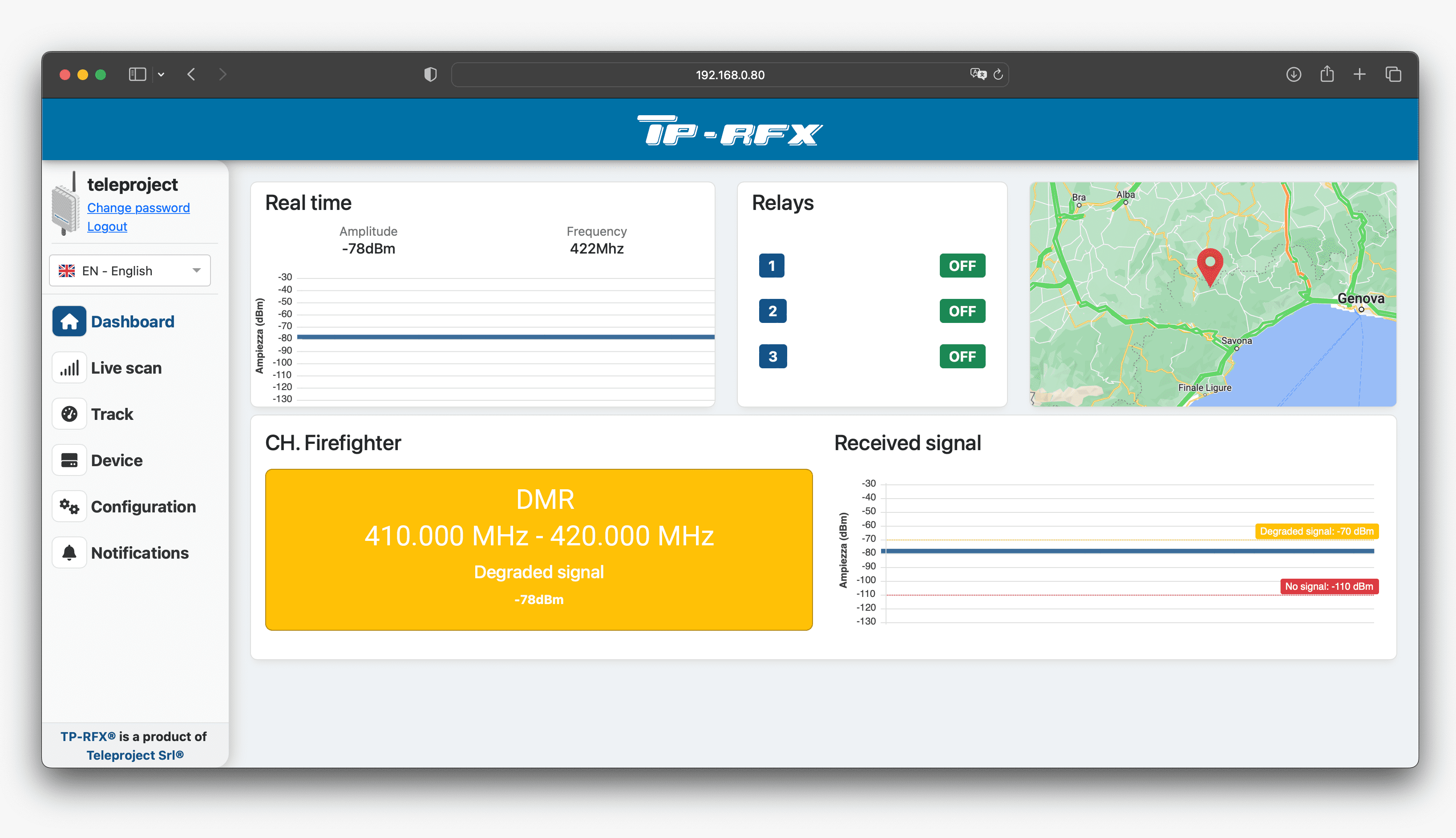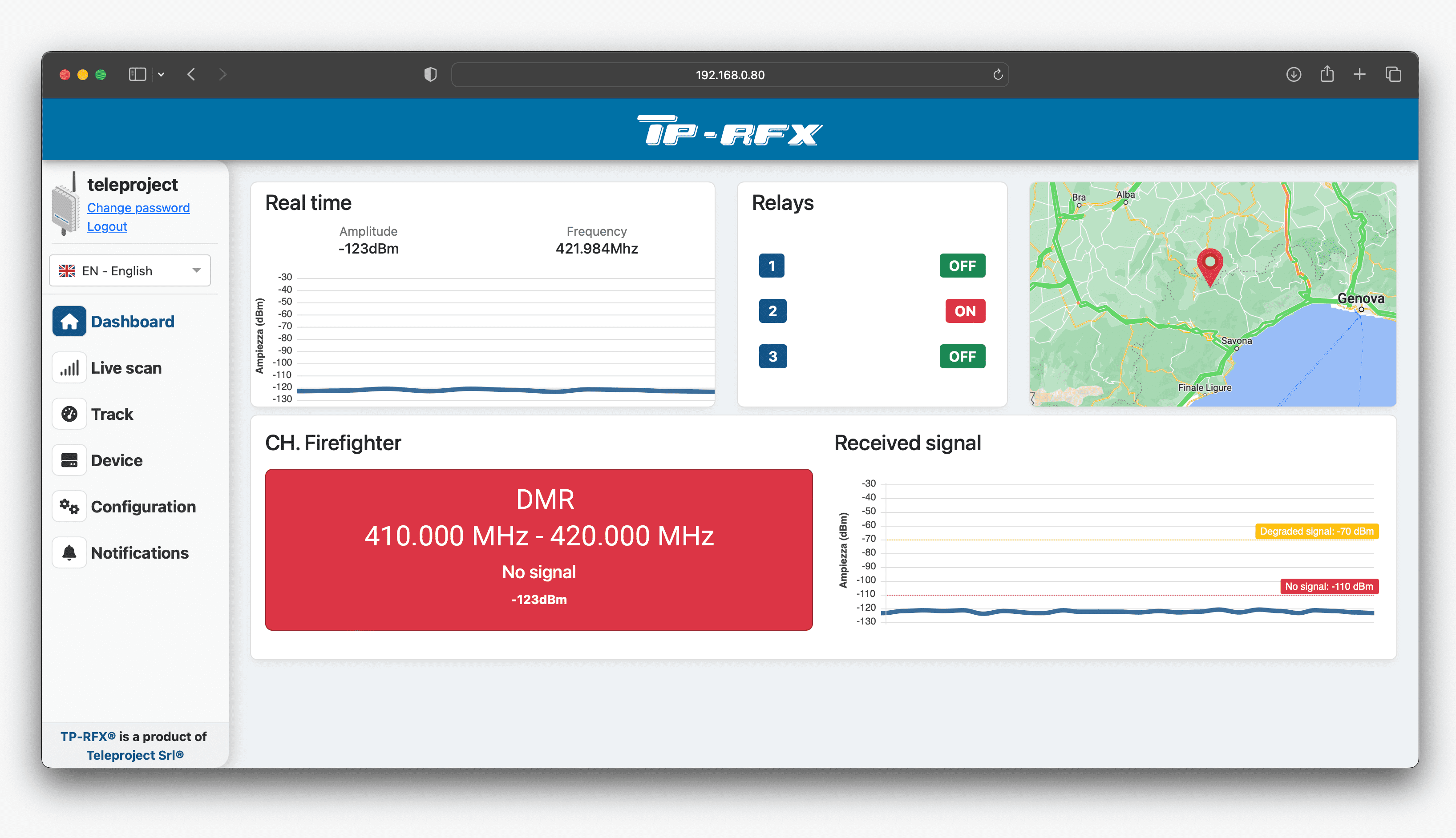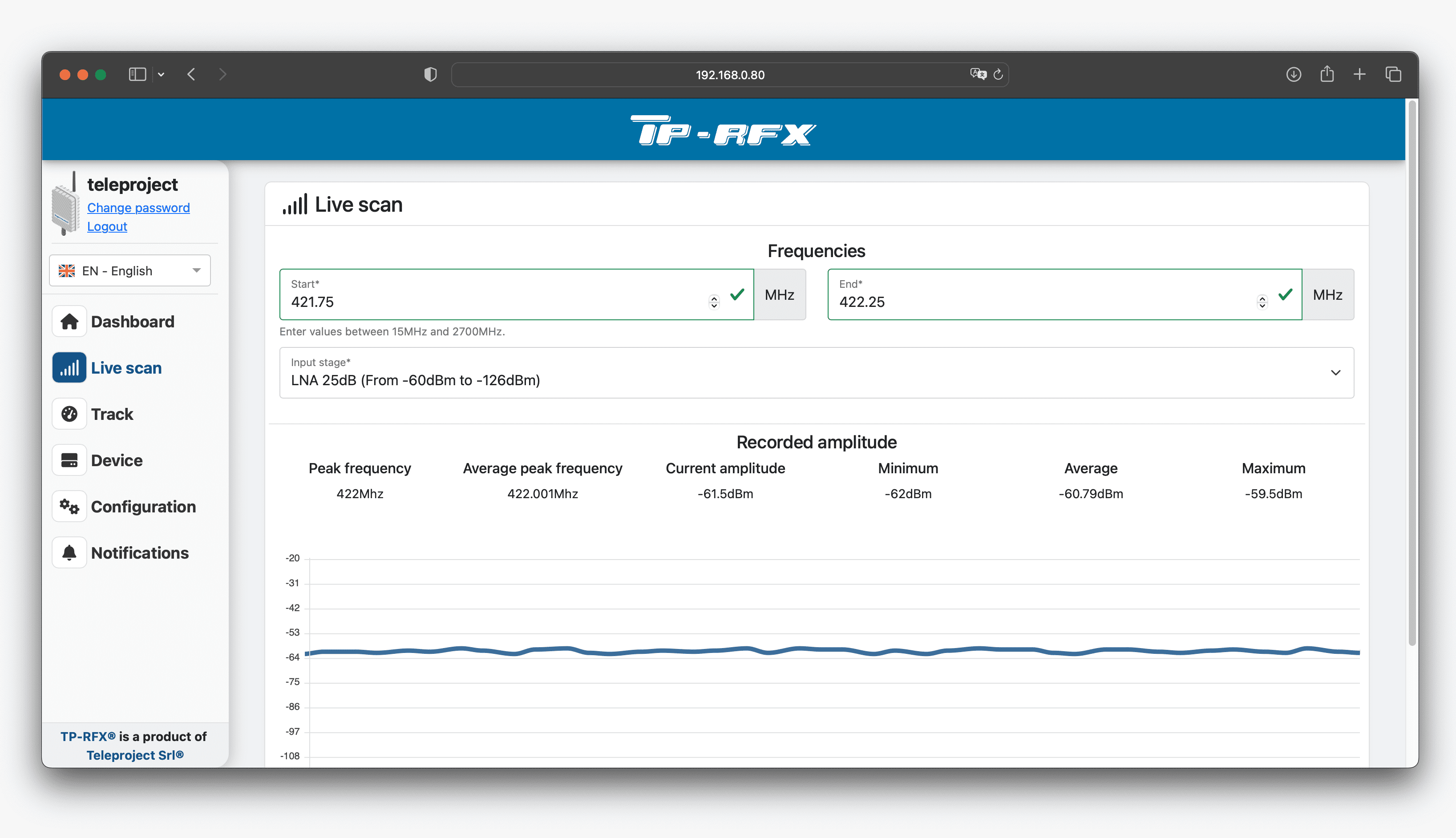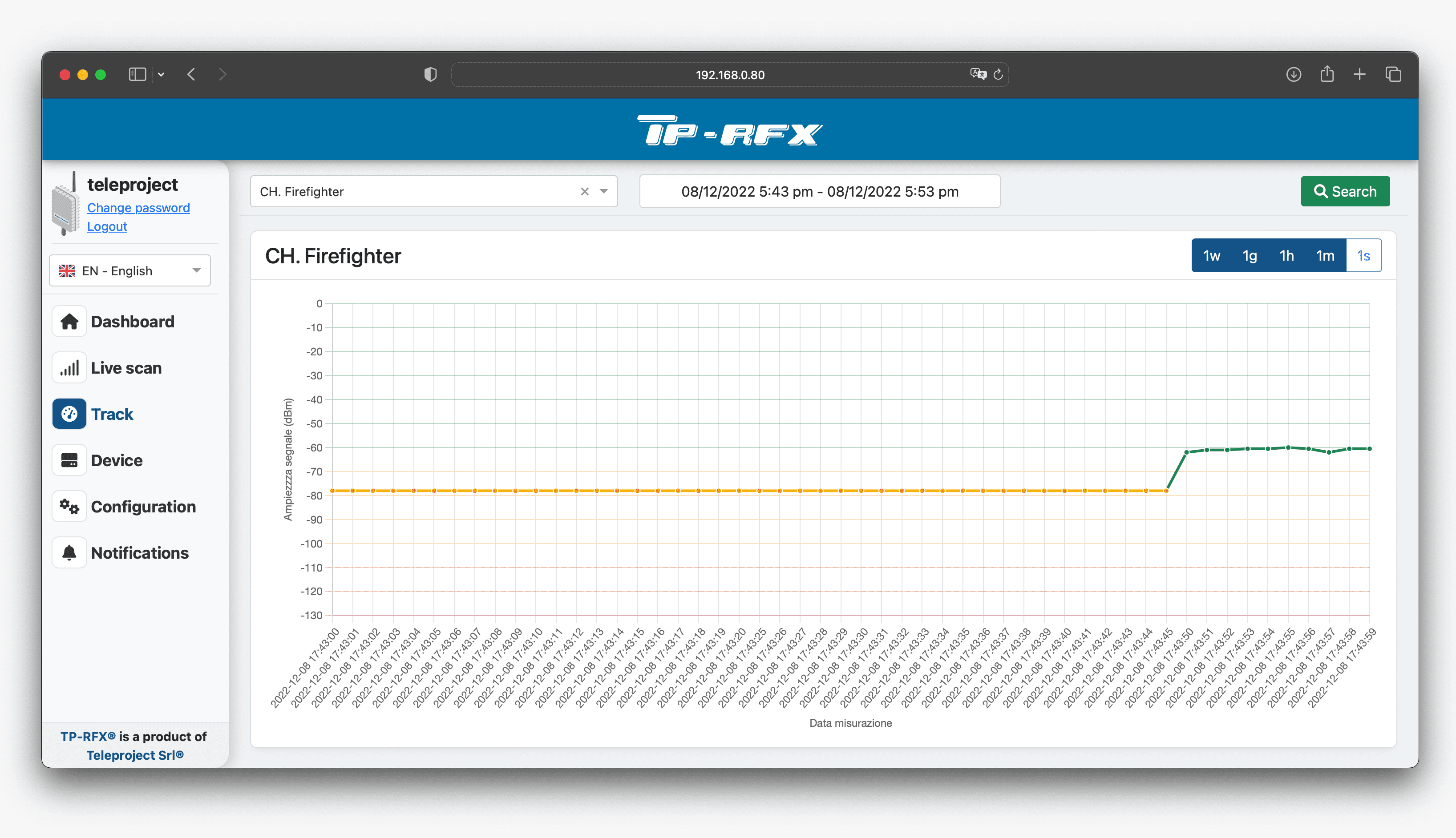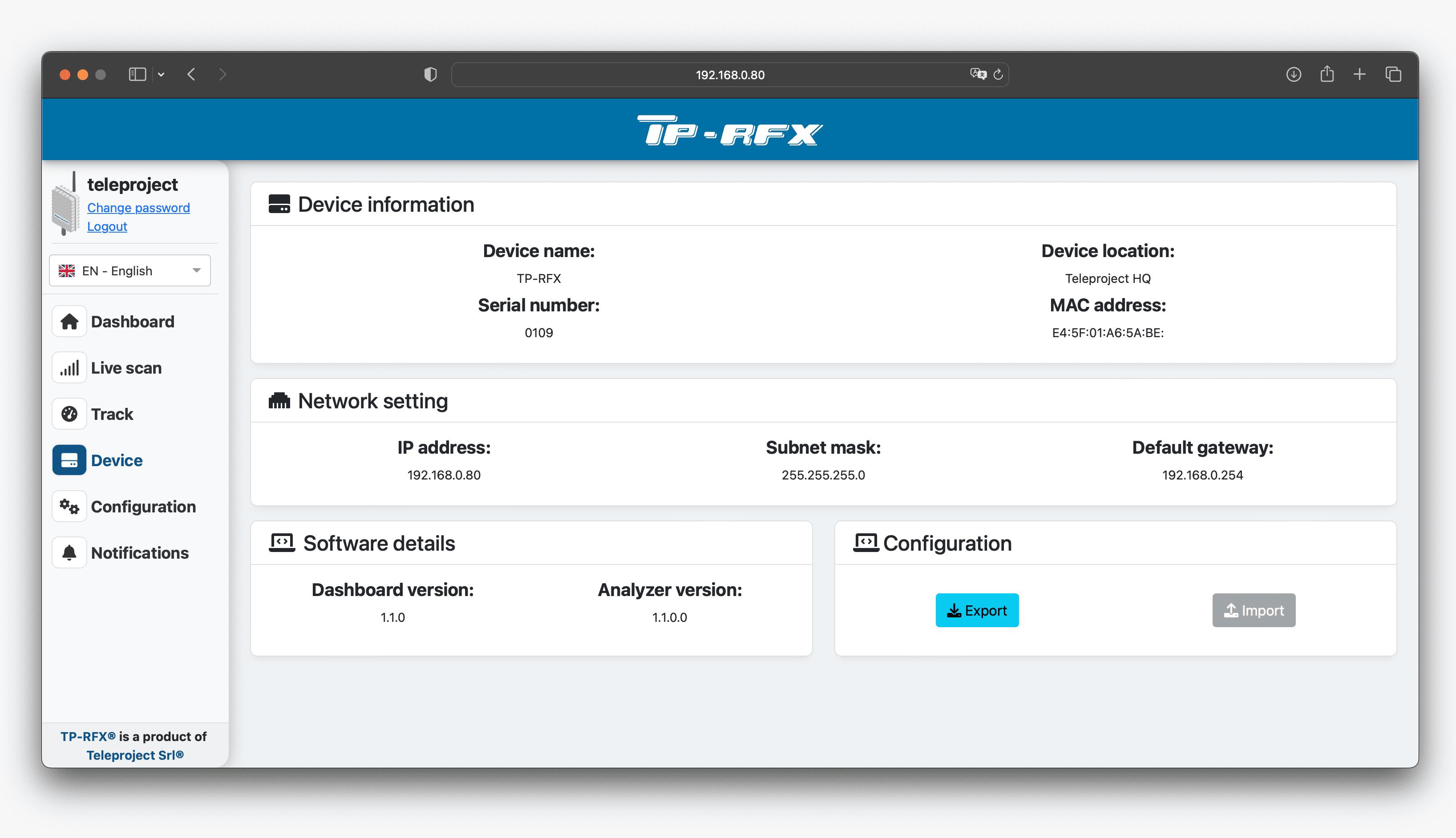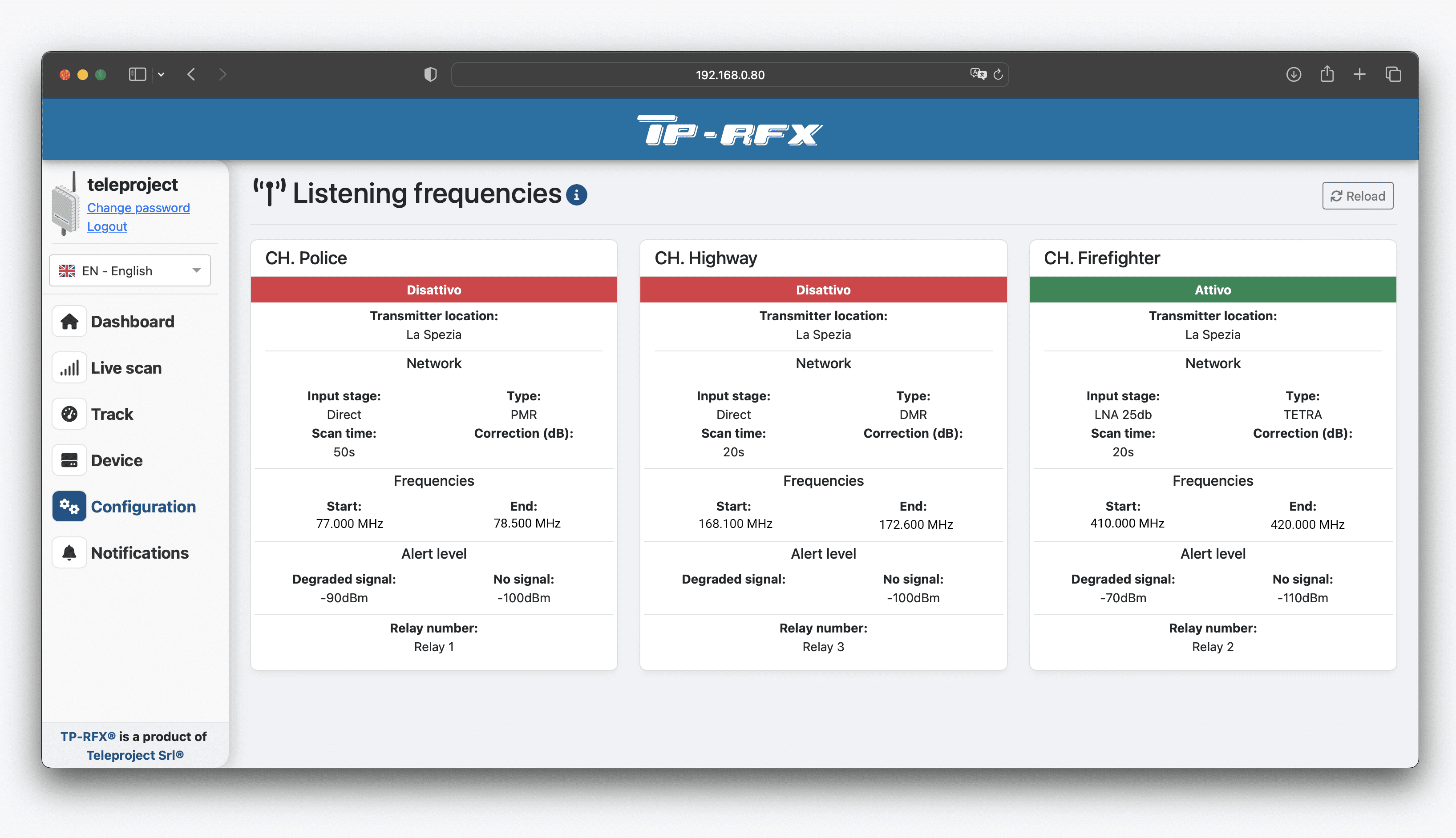 Rain and heavy wind resistant
TP-RFX is designed to operate continuously in any outdoor environment, including extreme weather conditions, thanks to its IP67 certification. This makes it an essential tool for ensuring reliable and uninterrupted monitoring of critical carrier frequencies in emergency situations where around-the-clock operation is required
Other features:
-Our Live Scan feature allows you to scan a range of frequencies from 15 MHz to 2.7 GHz in real-time for efficient and accurate monitoring.
-The History page allows you to view signal activity for a specific period of time (up to 2 years of history measurements), providing a convenient way to track and analyze signal patterns over time.
-Users can be created with varying roles and privileges to suit the needs of your organization.
TP-RFX RF Spectrum analyzer
Specifications
The TP-RFX is a high-performance RF spectrum analyzer designed for use in outdoor environments. It has a wide frequency range of 15 MHz to 2700 MHz, allowing for comprehensive analysis of a variety of signals. In Q4 2023, a version with a frequency range up to 6 GHz will be released
RF Analyzer
Frequency band coverage:

15-2700 MHz

Antenna connector:

N-Female, 50 Ω

Amplitude resolution:

0.5 dB

Dynamic range:

-130 dBm to +10 dBm

Absolute Max input power:

+30 dBm

Frequency stability and accuracy:

± 10 ppm
Amplitude stability and accuracy:

± 3 dB

Amplitude and Frequency calibration:

Factory calibrated

Frequency resolution:

1 Khz

Resolution bandwidth (RBW):

Automatic 3 KHz to 600KHz

Operating temperature:

0° - 50° C
Power supply
Input voltage (PoE power supply):

36-56 V

Operating voltage:

5 V

Operating current:

10-1300 mA

Max operating power:

6.5 W

Protection:

Overload and short circuit

Maximun distance from power supply:

100 meters
Case and dimensions
Connectors :

1 x RJ-45 PoE and 2 x N-Type female

Dimension (without connectors):

235 X 155 X 75 (mm)

Weight:

2 Kg.

Enclosure Seal Operating temperature:

-60° C to +230° C

Heat Trap:

+6.5° C under full sun (~100,000 Lux)

Temperature raise using a 5-10W heat source:

+5.5 Celsius
Contact us for more information